Frankfurt am Main 19.03.2019 /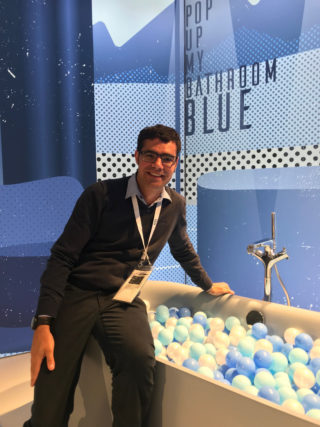 Achieving the climate targets is only possible by interconnecting systems and trades, and conserving resources. Last week, the world's leading trade fair ISH backed up this claim by presenting a plethora of fresh and forward-looking solutions. From 11 to 15 March 2019, around 190,000 visitors from 161 countries came to the exhibition grounds of Messe Frankfurt to learn about trends for modern bathroom design, sustainable heating and air-conditioning technology as well as intelligent home systems.
Those who were unable to attend the fair received the latest information on ISH's social media channels. As in previous years, our colleague Thomas Pfannkuch was on the grounds of Messe Frankfurt, where he covered more than 10 kilometres a day to keep the more than 8,000 followers of ISH's Twitter channel up-to-date.
Heute letzter Tag der #ISH19! Letzte Gelegenheit die Trends und Innovationen bei Wasser ? und Wärme ? zu entdecken! pic.twitter.com/FTPHbhBfpA

— ISH Frankfurt (@ish_frankfurt) 15. März 2019
The #ISH19 is officially open! @messefrankfurt @talwazir @Stadt_FFM pic.twitter.com/9AS4n5aW1d

— ISH Frankfurt (@ish_frankfurt) 11. März 2019
To sum up, the bathroom will become more colorful, more technical and cozier. Color will become a design element. Diverse decors, surfaces and materials will promote individuality. Extravagant fittings and furniture will become more attractive. Steam showers and smart bathtubs will fulfill the desires for an oasis of wellbeing and a private spa within your own four walls.
What are the #bathroom #design trends at #ISH19? Here you are! #popupmybathroom #VDS pic.twitter.com/SNKGQXz4Ww

— ISH Frankfurt (@ish_frankfurt) 15. März 2019
Eye catcher Bathroom design – colorful or reduced. What's your #design highlight at #ISH19? ? pic.twitter.com/9YN2F8tUU8

— ISH Frankfurt (@ish_frankfurt) 13. März 2019
Color up your #bathroom! The possibilities are endless… #ISH19 pic.twitter.com/7CIXfR0n0y

— ISH Frankfurt (@ish_frankfurt) 15. März 2019
Willkommen #Bad-Botschafterin Franziska van Almsick auf der #ISH19! Hier bei Werkstatt Bad mit Assistenz- und Unterstützungssystemen für Handwerker. @ZVSHK_Handwerk #VDS pic.twitter.com/THTZoSDWe6

— ISH Frankfurt (@ish_frankfurt) 13. März 2019
Für die neuesten Trends im Bad interessiert sich auch @ntvde – heute auf der Messe, morgen im Ratgeber "Bauen & Wohnen"! #ISH19 #VDS #Sanitärwirtschaft pic.twitter.com/ORqThh3IRK

— ISH Frankfurt (@ish_frankfurt) 11. März 2019
In the heating segment, the ambitious resource and climate protection targets set by politicians will be offset by around 14 million obsolete and inefficient heat generators in the cellars. The ISH presented the entire range of technical solutions – from heat pumps to fuel cell technology – which make an important contribution to the success of the energy revolution. The industry also presented intelligent building technology and efficient air-conditioning and ventilation technology.
Tobias Kroener aus Wiesbaden ist ISH Champion 2019! Klasse Leistung über alle 4 Wettkampftage. ???

Den Gewinn investiert der Leistungssportler in Equipment für Wildwasser Kanu. @ZVSHK_Handwerk @BDH_Waermewende @VdZeV @messefrankfurt @FGK_eV #VDS #ISH19 pic.twitter.com/9K7Iz3YIeI

— ISH Frankfurt (@ish_frankfurt) 14. März 2019
Der Digital Star auf der #ISH17: die Zukunft des Energie-Managementsim Gebäude. Im Zentrum: Das Home Energy Management System #HEMS, das die höchste Energieeffizienz und das optimale Zusammenspiel realisiert.
▶️ Halle 11.1, C06 @BDH_Waermewende pic.twitter.com/geqzq4SIH5

— ISH Frankfurt (@ish_frankfurt) 13. März 2019
The special show BIM@ISH demonstrates the possibilities with #BIM along the entire value-added chain: planning – building – operating. Check out the 6 stations in hall 10.3! #ISH19 pic.twitter.com/hQzy91QTNl

— ISH Frankfurt (@ish_frankfurt) 12. März 2019
Refrigeration, air-conditioning and ventilation technology is now located in hall 8.0! #ISH19 pic.twitter.com/6z6gUW8TEh

— ISH Frankfurt (@ish_frankfurt) 11. März 2019
In addition to the social media activities, we were also able to place the top themes and trends of ISH 2019 in numerous daily and business media, such as Germany's daily television program ZDF morgenmagazin: