05.09.2019 /
Stepkes moved from Grayling to Schwartz PR at the beginning of August. At Grayling, she mainly consulted clients from the B2B and B2C technology sector. She also brings expertise in the industrial environment. At Schwartz PR she will advise clients in the areas of IT security, industry and new technology. As a long-standing organizer of cultural events, presenter, stage poet and workshop leader for creative writing and presentation, she keeps an unconventional eye on topics and concepts in the technology sector. "Schwartz PR offers me the opportunity to participate in the discourse on future topics in the technology environment. I would like to take up this creative challenge and look forward to a successful cooperation with customers and colleagues".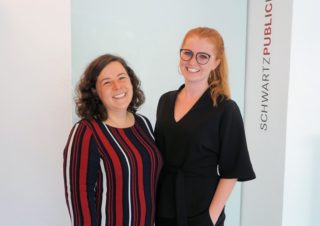 At the same time Verena Pretzsch starts as a trainee at Schwartz PR. With her English-language studies, which she completed with a Master in International Marketing Management at the Hochschule für Wirtschaft und Recht in Berlin, and her broad wealth of experience from various internships, she brings with her a great passion for designing and realizing appealing brand communication.
Christoph Schwartz, owner of Schwartz Public Relations, is pleased about the two new additions: "Eva Stepkes and Verena Pretzsch are two promising talents in communication. The long-term promotion and sustainable training of young PR consultants is very important to us. I am therefore all the more pleased that Eva and Verena have chosen Schwartz Public Relations as their new employer".