Munich 10.05.2019 /
At Schwartz PR, we focus on accompanied direct entry, as in on-the-job training, because we know that graduates are eager to get going on the job after their theoretical studies. This is exactly the goal of a direct entry in contrast to a classic trainee program. In larger companies with different departments, a traineeship may be worthwhile, whereas in medium-sized agencies with 30 or so employees, transparency is significantly higher to begin with, so changing departments would not be as effective as a well-planned direct entry.
What does direct entry look like for us?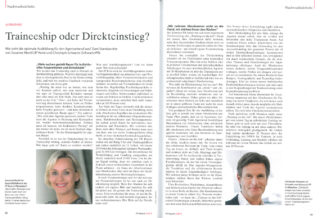 We emphasize the combination of "direct" and "accompanied" entry. Because we know that graduates first have to orient themselves and find their way around in everyday working life. That's why all graduates are assigned a mentor and placed in a larger team of six to nine colleagues from different hierarchical levels. In order to have enough time for the training, there is only one graduate in each team (which is not the case in many other agencies that employ a host of graduates, without enough seniors to guide them). Our team leaders all have at least ten years of professional experience and  together with the consultants act as sparring partners and trainers. Our on-the-job trainees therefore never work alone, but always with us. They learn from the experienced consultants in the team.
At the same time, our graduates are directly involved in the agency's work from day one, get to know processes and tools, and actively participate in calls, meetings and discussions. This enables them to assume responsibility more quickly and make their own decisions earlier compared to a trainee program. The role of the agency management, the team leaders and the experienced consultants is always to enable the young colleagues to achieve independence. We do not take them by the hand, but strengthen it.
And that is precisely the advantage of direct entry into a permanent team: By observing, implementing and taking responsibility for different tasks, graduates grow faster into their role as consultants. The customer base within our teams is relatively strong; processes repeat themselves, so the trainees on the job can quickly gain experience, gain confidence and test their strengths and weaknesses in practice. Our graduates should be able to express their opinions, grow into responsibility and work with others to achieve results. The speed of this development depends on one's individual abilities and qualities.
Direct entry therefore makes sense as long as the agency ensures that it offers a high level of transparency both vertically and horizontally:
On a vertical level, graduates should be able to get to know and participate in the entire process, from customer acquisition and onboarding to account handling, with all its decision-making processes. We make this possible by providing weekly formats that reveal current issues and decisions of the agency management. Graduates also take part in these meetings. They know which new business options are available, which pitches we decline and why we decided to do so. They know about budgets, contracts and reporting requirements. And they get to know our individual profitability calculations, and are also involved in the discussions on capacity planning.
On a horizontal level, the team leader, together with the graduate, plans his or her activities, which must always be based on the fact that graduates should get to know the full range of the agency's measures and tools over the course of a year. This is controlled by checklists, so that we can make sure that the trainees on-the-job have seen or participated in everything they need for their next stage after one year.
Our on-the-job training ends after twelve months at the latest. The direct entrants (Account Coordinators) become Account Executives with their own project or customer responsibility. Since our direct entrants receive unlimited contracts from day one, the question whether or not they'll be hired does not arise. Right from the start, they are on an equal contractual footing with all other employees. Their salary is also at least 25 percent higher than the GPRA's recommendation for trainees. Depending on previous training, performance and quality, we increase a graduate's salary by a further 25 percent during the first few months.
Author: Christoph Schwartz, owner of Schwartz Public Relations
Interested to learn more? All you need to know about jobs and careers at Schwartz PR.